An extraordinary time requires an extraordinary commitment. This is shown by the people who are currently shelving supermarkets, who risk their lives in emergency rooms or who drive trucks across the country under the most difficult conditions.

The scientists at BIPS are also contributing their epidemiological expertise to counter the COVID-19 pandemic and protect human lives. Here are some results of this effort.

Competence Network Public Health on COVID-19
The Competence Network Public Health on COVID-19 is an ad hoc association of over 15 scientific societies and associations in the field of public health, which bundle their methodological, epidemiological, statistical, social science and (population) medical expertise to counter the COVID-19 pandemic. Hajo Zeeb from BIPS is a member of the coordination group of the network. Further information on the network can be found (only in German) here: https://www.public-health-covid19.de/
CoVerlauf "Study on the course of the disease in persons who tested positive for SARS-CoV-2 or who were affected by COVID-19"
The Bremen Senate for Health, Women and Consumer Protection has commissioned a scientific study to survey persons who have tested positive for SARS-CoV2 or were affected by the disease COVID-19. The Leibniz Institute for Prevention Research and Epidemiology – BIPS will conduct this study.To this end, the Bremen Health Office has been asked to send invitations for this study to all persons who tested positive for SARS-CoV2 or had COVID-19. Below, you will find an English translation of all relevant information contained in the German invitation.Summarized briefly, you are invited to participate in the so-called CoVerlauf study. Your participation is voluntary. If you want to take part, please fill out the consent form (German: Einwilligungserklärung) with your contact data, sign it, and send it to BIPS (a pre-stamped envelope was provided with the letter). If you are more comfortable with an English version of the consent form, you may find one here. Please print it, fill it out, sign it, and send it to BIPS.
Update: Thank you very much for your participation! The survey phase is now completed and we are currently evaluating the results.
BIPS director writes strategy paper to contain COVID 19 pandemic
In a joint statement, the four largest German research organizations (Fraunhofer-Gesellschaft, Helmholtz Association, Leibniz Association, Max Planck Society) have expressed their support for the consistent containment of the corona epidemic.

Scientists from the organizations involved in the mathematical analysis of the spread of COVID-19 diseases and the prediction of their further development have compiled their results, written a joint analysis of the situation and presented possible coping strategies from a modeling perspective.

Prof. Dr. Iris Pigeot, Director of the Leibniz Institute for Prevention Research and Epidemiology - BIPS, represented the Leibniz Association in this process.

The complete strategy paper can be found here.

In an interview with DIE ZEIT, Pigeot explains the background to the paper together with the other scientists involved.

Here you can find an article with the model calculations.

Second statement: Every contribution helps

Prof. Dr. Iris Pigeot is also involved in the second statement of the presidents of the non-university research organizations on the corona epidemic. It runs under the title "Every contribution helps".

Although we have been living with the COVID-19 pandemic for more than half a year now, there are still many open questions and great uncertainties regarding the further infection process. How will the epidemic develop in Germany - especially in the upcoming flu season and during the cold autumn and winter months? Which strategies are particularly efficient to contain the rising infection rates in Germany and worldwide? What has proven successful in recent months, what properties of SARS-CoV-2 are now known? And what measures can we expect the economy and the population to take without restricting social life too much? These are the questions addressed in the second opinion. It can be found here.

Third statement: The situation is serious

In a joint statement by the largest German research organizations, the President of the German Research Foundation and the Presidents of the Fraunhofer-Gesellschaft, Helmholtz Association, Leibniz Association, Max Planck Society and the National Academy of Sciences Leopoldina have issued a statement on the coronavirus pandemic.

The declaration "Coronavirus Pandemic: It is serious" can be found here.

In an interview with Der Welt, Iris Pigeot explains the statement. It can be found here.
Use the holidays and the turn of the year for a hard lockdown
In order to regain control over the pandemic, the National Academy of Sciences Leopoldina recommends a "hard lockdown" in the ad hoc statement published today. In addition to numerous other renowned scientists, Prof. Dr. Iris Pigeot, Director of the Leibniz Institute for Prevention Research and Epidemiology - BIPS, also contributed to the statement.

In the ad hoc statement "Coronavirus pandemic: use the holidays and the turn of the year for a hard lockdown", the group advocates a two-step approach: As early as December 14, 2020, contacts in both the professional and private spheres would have to be reduced to the absolute minimum. Home office should be the rule wherever possible. Compulsory schooling should be suspended in all German states by the start of the Christmas vacations. Group activities in sports and culture would have to be discontinued and, wherever possible, digital options should be used instead of face-to-face offerings.

From December 24, 2020, until at least January 10, 2021, public life should largely be suspended throughout Germany and a hard lockdown should apply. For this, in addition to the measures proposed from December 14, all stores except those for daily needs should be closed and the Christmas vacations in educational institutions should be extended. In the paper, the researchers also provide recommendations for behavior during the holidays. Among other things, vacation travel should be avoided during this period and gatherings should be limited to the closest stable group of people.

The complete statement can be found here.
Corona Tracing Apps - Statement of the Leibniz-ScienceCampus Digital Public Health
The use of apps as a tool for containing the COVID pandemic is currently being intensively discussed. So-called tracing apps are intended to inform contact persons of positively tested persons as quickly as possible so that they can immediately go into quarantine. This is particularly important because in this so-called pre-symptomatic phase, infected persons without symptoms can continue to infect other people.
The aim is to significantly reduce the number of contacts that lead to a possible passing on of the infection by informing those affected as early as possible, thereby reducing the dynamics of the spread of the virus. Due to the still low frequency of SARS-CoV-2 infections in the population, the rapid contacting and isolation of infected persons and their contact persons is of great importance, and public health authorities need the most efficient support possible in this respect. Current plans for a tracing app in Germany call for contact persons of infected persons to be identified anonymously via Bluetooth and the identification (anonymous ID) of their app instance to be stored. According to the latest information, a decentralized solution without storing the ID on a central server is to be used. An introduction is expected in the near future.
In the LWC DiPH Bremen scientists from the health sciences, computer science, statistics, law, communication sciences, ethnology and philosophy work together. Young scientists are specifically supported in the Early Career Researcher Academy. Together they address interdisciplinary questions of digital technology development and evaluation in public health. The University of Bremen, the MEVIS Fraunhofer Institute for Digital Medicine and the Leibniz Institute for Prevention Research and Epidemiology - BIPS are involved.
The complete statement can be found here.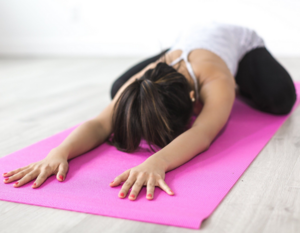 How to stay fit during the pandemic
Some weeks ago BIPS started to collect information and examples of how to remain physically active during covid-19 pandemic. This refers to children, adults and mobility exercises during home office. Most of the information is in German, however, we also cite some resources in English. Maybe you will discover some unknown examples to move. Just klick here.
Nutritional advice during the Corona pandemic
Have you noticed any of the 'before and after' videos flooding the internet lately? After a couple of weeks of being confined to their homes people in these videos have considerably put on weight. But – this does not have to happen. The nutrition rules of the German Nutrition Society (Deutsche Gesellschaft für Ernährung/ DGE) offer simple advice for a balanced diet, which can easily be implemented.
Here you can find a brief summary of these rules.

Cooking and baking with children at home
At this time, we are all requested to stay at home. This may be a nice opportunity to cook and bake with our young ones. For little amateur cooks it often is an adventure to cut food and stir pots with their parents and siblings. At the same time, these kinds of activities help children discover what ingredients are being used in food, they train their senses of taste and smell, and enhance their motor skills. You can find the complete guideline here.
BIPS in international media reports on COVID-19
December 17, 2020, BBC
Covid-19: Europeans urged to wear masks for family Christmas
The World Health Organization (WHO) has urged Europeans to wear masks during family gatherings at Christmas. What are Germany's new measures, and why now?
December 16, 2020, CNBC
Germany got it wrong when easing restrictions after the first wave of Covid-19, expert says
Professor Hajo Zeeb from the Leibniz Institute for Prevention Research and Epidemiology, discusses Germany's new coronavirus lockdown measures.
November 9, 2020, NBC
Trump tried to justify rising Covid cases by pointing to Europe. Experts say he's wrong.

The U.S. has less than 5 percent of the world's population but almost 20 percent of its recorded coronavirus deaths.
November 6, 2020, CNBC
Why Germany's coronavirus strategy doesn't appear to be working this time around
Germany started its "lockdown light" on Monday, which is set to last for the month of November. The German government is aiming to push the number of new infections down to about 50 cases per 100,000 over a seven-day period. The government said it was currently unable to trace 75% of new cases.
October 22, 2020, tagesschau.de

"We are really all in demand now"

If everyone were to write a contact diary now, this could greatly slow down the rising number of infections, says epidemiologist Hajo Zeeb. But he doubts whether this additional measure will be enough.

October 25, 2020, Buten un Binnen

Bremen epidemiologist: Schools close last - not first

The school starts, while the number of Corona Falls increases massively. How does that fit together? Professor Hajo Zeeb advises the education department. He also has advice for parents.

October 27, 2020, MDR aktuell,

Protection proven by wearing a mask?

Doctor President Klaus Reinhardt recently caused confusion when he said he was not convinced of the mouth-nose protection because there was no scientific evidence that it was actually helpful. In the meantime Reinhardt has backed out and is now advocating the wearing of masks. Why is it difficult to prove an effect, and why is wearing a mask still recommended?

October 27, 2020, Die Welt

"These are no longer individual herds, this is a wildfire"

Only drastic cuts can save Germany from an uncontrolled spread of the coronavirus, the major research associations suggest. Leibniz director Iris Pigeot explains how you should act in this situation.

29 October, Süddeutsche Zeitung

Scientists: Use closing time for new corona concepts

According to Bremen epidemiologist Hajo Zeeb, the time of the corona restrictions in November should be used to develop new concepts for dealing with the pandemic. "We are still early in autumn," said the professor at the Leibniz Institute for Prevention Research and Epidemiology (BIPS) in Bremen.
23. September 2020, The Telegraph
How Germany avoided Covid catastrophe - with 'luck and tests'
Modern Germany is by most measures a less regulated society than the UK - but it has fared better with Covid-19.
3. Mai 2020, nbc
Boris Johnson heralds Britain's coronavirus successes. The numbers tell a different story.
Analysis: "Time was lost in the beginning, and that has led to this high number of deaths," one leading expert said.
March the 28th 2020, Global News
Epidemiologist on Corona-dark figure: We still need to test more
The Bremen Institute for prevention research and epidemiology want with a minimum of 10,000 Tests, the dark figure of the Corona – Infected lighten.
March the 25th 2020, NBC
Why are so few Germans dying from the coronavirus? Experts wonder
While countries around the globe struggle to cope with the death, panic, restrictions and economic dislocation wrought by the coronavirus pandemic, a different picture has emerged in Germany.